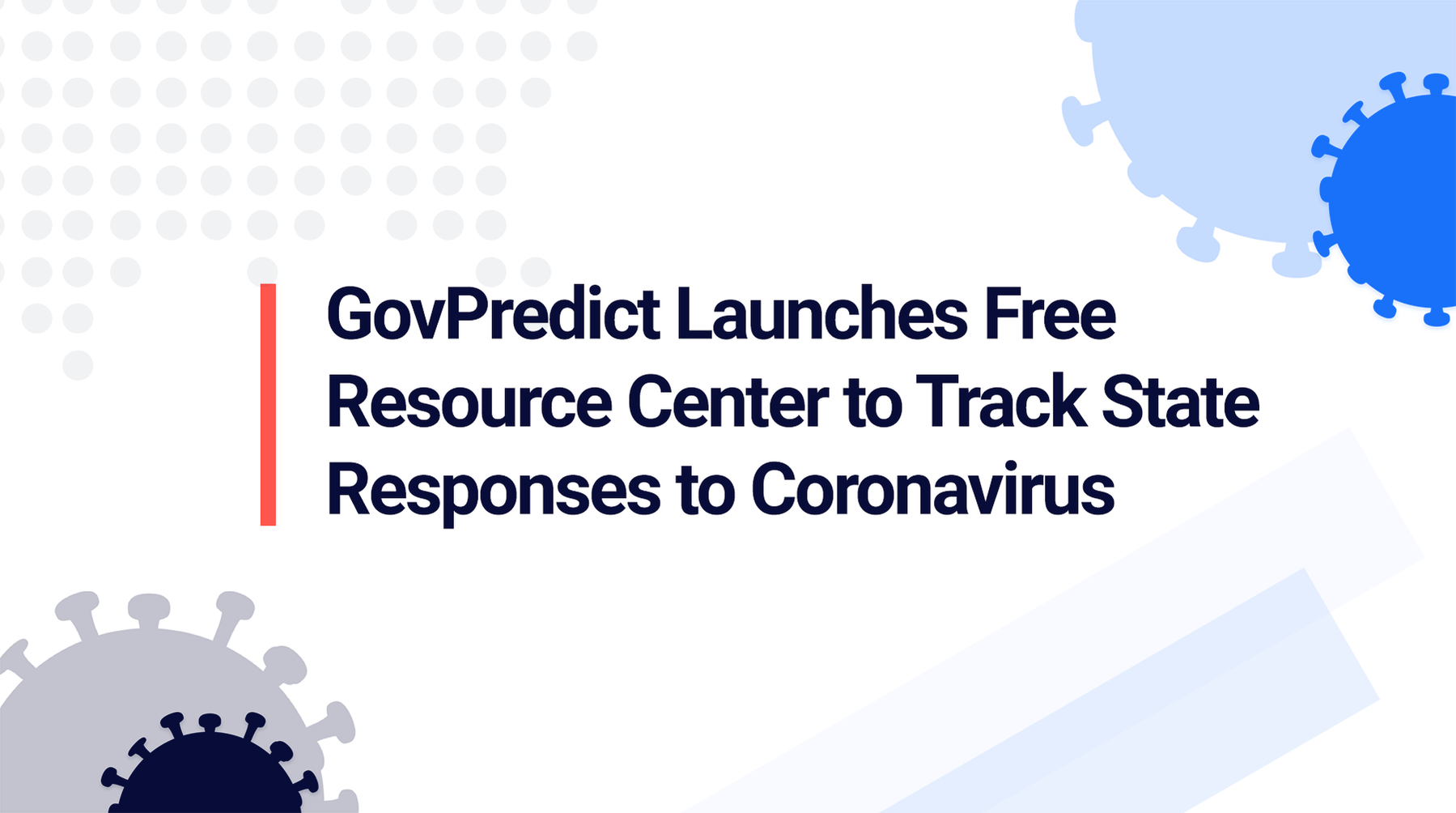 To aid the country in understanding how state governments are handling the coronavirus outbreak, GovPredict has created a dedicated hub of free information from inside our Government Affairs platform.
This page has an interactive map of the United States. Clicking on any state shows the bills pending (or passed) by each state's legislature. Viewers can also filter by issue area, in order to compare how states are handling the outbreak. The entire map is also embeddable onto any other web page, allowing anyone to post this same valuable information directly to their site.
What's Available?
Our team of internal analysts has an ongoing search of bills that are related to the current coronavirus outbreak and COVID-19. They placed these bills into categories by issue area, including things like telemedicine, schools, compensation for affected workers, and more.
Interactive Map
See, at a glance, how many bills each state is considering. Clicking on a state instantly filters your results. Clicking on the name of an issue area, instantly highlights which states are considering bills that fall under that issue.
Bill List
Below the map, we offer the full list of bills under consideration. At a glance, you can see how many each state is considering, broken down by issue area.
Bill Text
Click each bill's name to go directly to the state website and read the full text of the bill as it currently stands.
Bill Information
Clicking the "more information" link for any bill takes you to a dedicated page for that bill. Get valuable, fast information about the bill, including sponsors, current status, and a timeline as the bill moves through that state's legislature.
Code to Embed Map on other Sites
Just copy and paste the freely available code to add the same, regularly updated information to your own web page, courtesy of GovPredict.
Where Does the Information Come From?
GovPredict's suite of products includes tools to track issues at the local, federal, and state level. This map is a feature of our State Intel data set, which takes information from every state and tracks it in one place. This tool is typically only available to GovPredict clients. We are making it free to anyone who wants the information.
Why Are you Making this Free?
Part of the GovPredict mission is to help everyone better understand the policy decisions being made by their elected representatives.
We believe that this information is critical for:
Government affairs professionals who may not have access to a platform like GovPredict.
Journalists who need to be able to contextualize the responses of any given state and compare them to the work being done nationwide.
Any concerned person who does not have the resources to track how their state is dealing with the coronavirus outbreak.