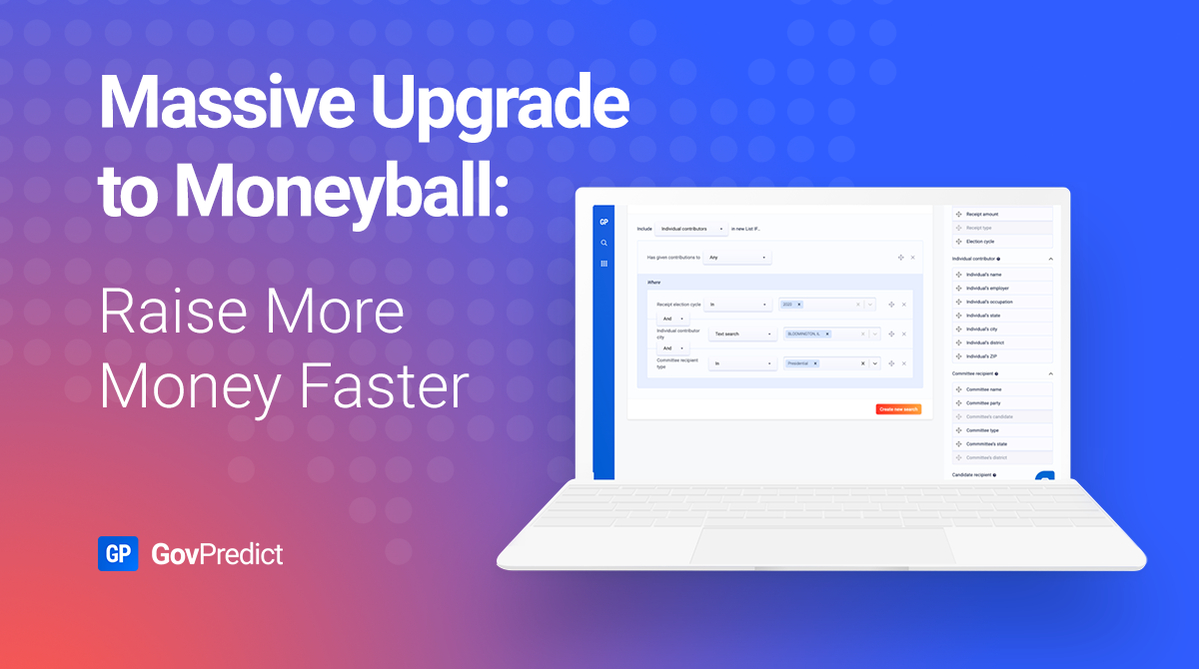 You need to raise more money this cycle, and in the current environment that's harder than ever. Moneyball by GovPredict just got a huge upgrade, and it makes it easier than ever to find more money.
What is Moneyball?
Moneyball is a database that contains every available piece of information on every single political donation (federal, state, and local).
Moneyball recently won the Reed Award for Best Use of Data Analytics in Online Fundraising, and it has only gotten better
What does Moneyball do?
Helps you raise more money by uncovering the true giving capacity of every donor and by micro-targeting donors based on where they live, who they are, and where they've given before.
Save and Reuse Searches
Some searches for nuanced information can take time to build and refine. Now you can save the best ones and revisit them as often as you need them.
Search Faster
A new feature called Smart Search allows you to quickly create incredibly powerful searches in minutes. Select from an easy-to-use menu of filters including type of recipient, specific recipients, location of
donor, and more. Combine them for highly refined lists, for example everyone in a district who did not give to your campaign but did give to committees of your party.
Find Big (or Small) Donors
In addition to all of the other filters, you can now search for donations above or below a given threshold. Use this to find high-capacity donors as well as donors with a history of giving small amounts to numerous campaigns.
Find Corporate Donors
Track every corporate donation just like you do individual donations. Combine the separate contributions into single, unified records of a corporation's political spending.
Get Visibility on Earmarked Donations
Organizations like ActBlue make it incredibly difficult to connect donors to final recipients, and even the FEC's website double-counts those donations. Moneyball pulls it all apart, giving you the true picture of both the donors and the committees.
Follow the Money
Track disbursements and see where every committee's money has gone, all the way down to individual companies and the total amount of campaign money they have received.
Ready to See It?
If you haven't seen Moneyball recently, you need to get a demonstration. Click the button below to get started.