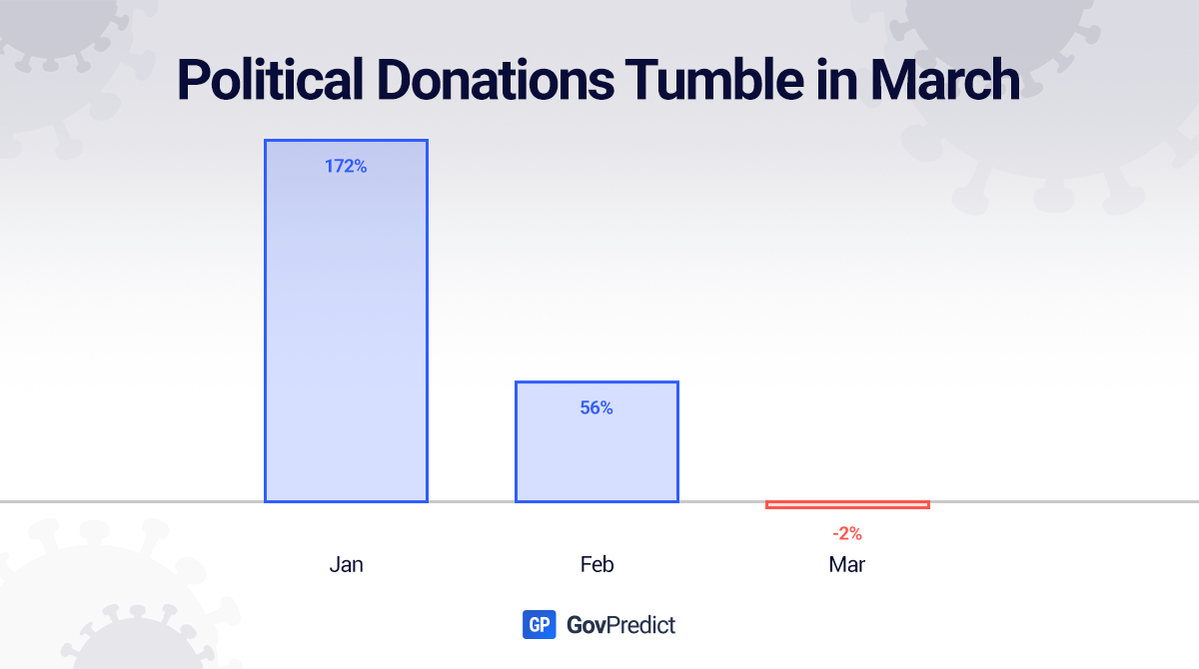 Donations to campaigns for the 2020 election are on a downward slide. After a strong start in January, contributions declined sharply in February and fell off a cliff in March. These losses track identically to the spread of the coronavirus and subsequent economic crisis.
GovPredict analyzed contribution data for 2020 and compared it to 2018 and 2016. The results show that the strong quarter is due solely to January. In February contributions start to slide compared to 2016. In March, there was actually a decrease in donations since the last presidential election.
The FEC has not fully processed all filings down to the month that donations were received. To ensure reliable comparisons, we are only reporting on committees that filed in 2016, 2018, and 2020.
Comparing 2016 to 2020, we see:
172% increase in donations from January 2016 to January 2020.
56% increase in donations from February 2016 to February 2020.
2% decrease in donations from March 2016 to March 2020.
At least $30 million lost
If donations had continued to track higher than 2016, then March's numbers should have been much, much higher. If we only take a modest doubling of the 2016 donations, then this means that committees lost $30 million across the board.
"March bump" down 81%
Campaigns rely on March for their first-quarter results. In a typical year, you see a modest January followed by a robust February and a strong March. In 2020, this bump in donations simply did not materialize.
In 2018, March donations were three times higher than January. In 2016, the last presidential election, March donations were a jaw-dropping four times higher than January. In 2020, March donations were only 69% higher than January.
The March bump was down by 81% compared to 2016.
March loss hurts Democrats more than Republicans
Both political parties saw a significant reduction in their March bump. However, donations to Democratic committees are down much more than Republican contributions.
Comparing the 2020 and 2016 receipts, Republicans raised 11% more this cycle. This is only half of what they should have expected based on other years' March bumps. But it is an increase.
Comparing the same years, donations to Democratic committees was down an incredible 30%.
As more data become available, GovPredict will publish further analysis.
Why news organizations reported that Q1 broke records
All political committees report their donations to the Federal Election Commission (FEC) on a quarterly basis. Approximately two weeks after the filing, the FEC releases the total numbers. Over the subsequent weeks, the FEC processes the data and publishes more granular information.
If you only look at the totals, you see good news across the board. The first quarter of 2020 saw record-setting donations across the board.
GovPredict's analysis looks at the details. Our Moneyball product ingests and analyzes the data that comes from the FEC website. This is where the downward trend suddenly becomes visible.
The data aren't all in yet. As of this morning, we have 45% of all committees' data fully processed. Over the next several weeks, we will continue to publish analysis of what happened and who gave to whom.
Complete 2020 Analysis
Follow GovPredict's full analysis of all political fundraising and spending for the 2020 election. Updated every time the FEC releases processed files.