With the national conversation on race in the spotlight, GovPredict's Moneyball tool reveals who has given the most—and the least—to Black Members of Congress.
Moneyball cleans, collects, aggregates, and analyzes every political contribution to all federal and state elections over the last 20 years. Included are donations by corporations, political committees, and individuals. GovPredict sources its data from the Federal Election Committee (FEC) website, the IRS website, and from the sites of each respective state's election commission.

Parameters of the analysis
We ran the numbers to analyze 2020 election cycle donations to 55 self-identified Black Senators and Representatives. These include the members of the Congressional Black Caucus (CBC) and Senator Tim Scott of South Carolina. Senator Scott is the sole Republican on this list. We also included giving to the CBC PAC itself. Representative Will Hurd of Texas is not seeking reelection this year and thus is not analyzed.
Contributions to the candidate's campaign committee and to the leadership PAC with which the candidate is affiliated were both considered. Due to the uniqueness of the U.S. presidential race, we excluded contributions to Kamala Harris's and Cory Booker's presidential committees, but we included contributions to their Senate committees.
This article highlights donations before the death of George Floyd, since political giving since April 1st is not yet systematically reported.
Corporate PACs with under 3% of total giving to Black Members of Congress
Some corporate PACs, as of April 1st, had contributed 3% or less of their total giving to Black Members of Congress this election cycle. Among corporate PACs that have given at least $100,000 in total this election cycle, notable low percentage donations include:

KOCH PAC and Berkshire Hathaway Energy PAC tie for 0.3% of their total contributions to Black Members of Congress, including the CBC PAC. DLA Piper US LLC PAC and BAE's PAC come in under the 2% mark, and Merck just hits 3.0%.
The Home Depot leads the way in corporate PAC donations to Black Congressional incumbents
Among corporate political action committees (PACs), the Home Depot's PAC has given the most (by gross contributions) so far this election cycle to the Members of Congress we analyzed. Comcast NBC Universal, Honeywell, and AT&T PACs round out the top four. Percentage-wise, however, Honeywell gives 5.9% of its total to these candidates' committees plus the CBC, the lowest percentage of the top 10. Black Representatives and Senators make up 10% of Congress.
All of the top 10 except for American Crystal Sugar Company PAC had bipartisan giving—meaning they have contributed to the sole Republican on the list, Senator Scott, in addition to some of the Democrats. American Crystal Sugar Company PAC also contributed to the least total number of Black Congress Members, at 25. Amazon PAC contributed to the most unique candidates (42 candidates plus the CBC PAC).
Here's the top 10 for corporate PACs in the 2020 cycle: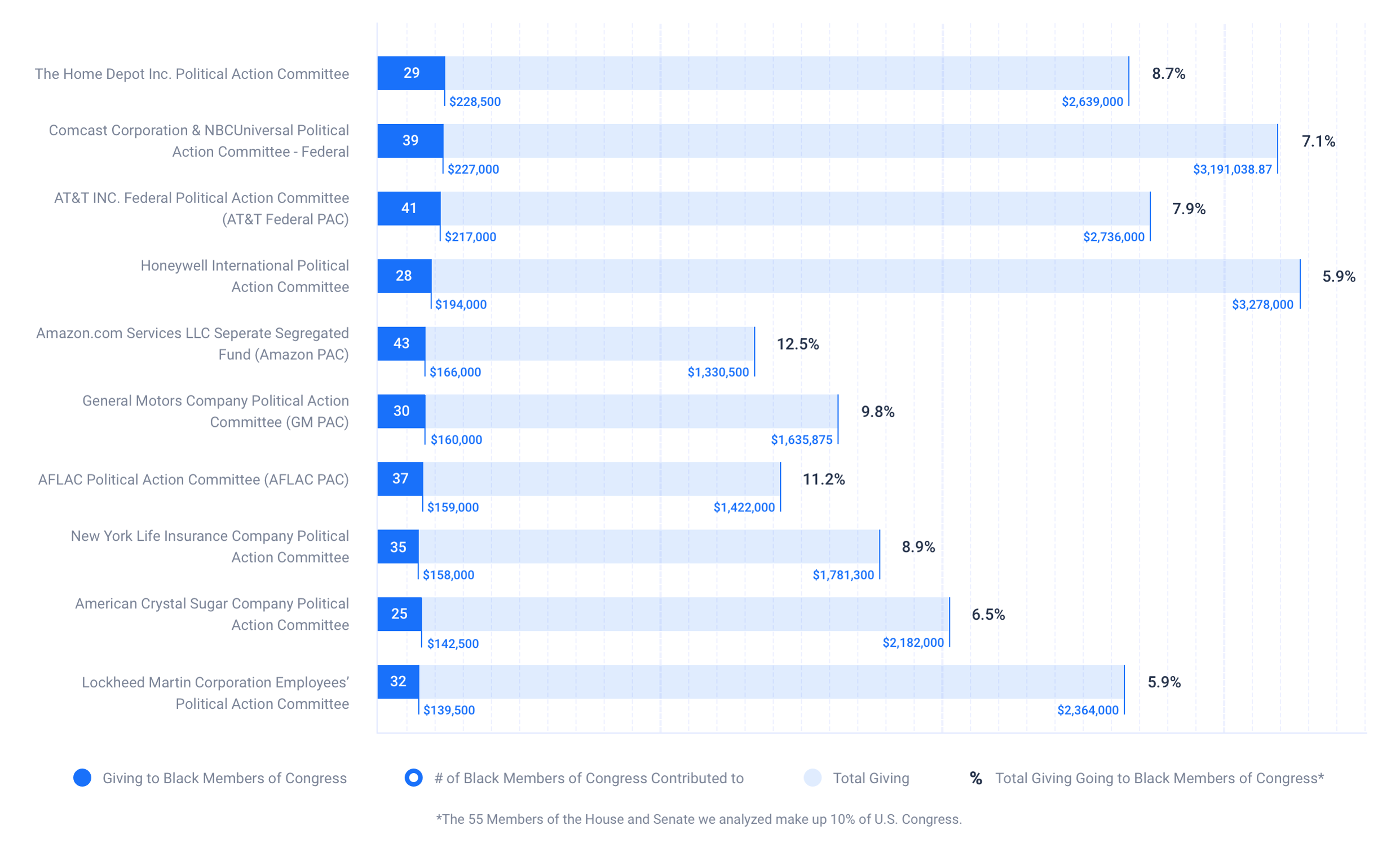 Here's the top 10 by number of unique recipients: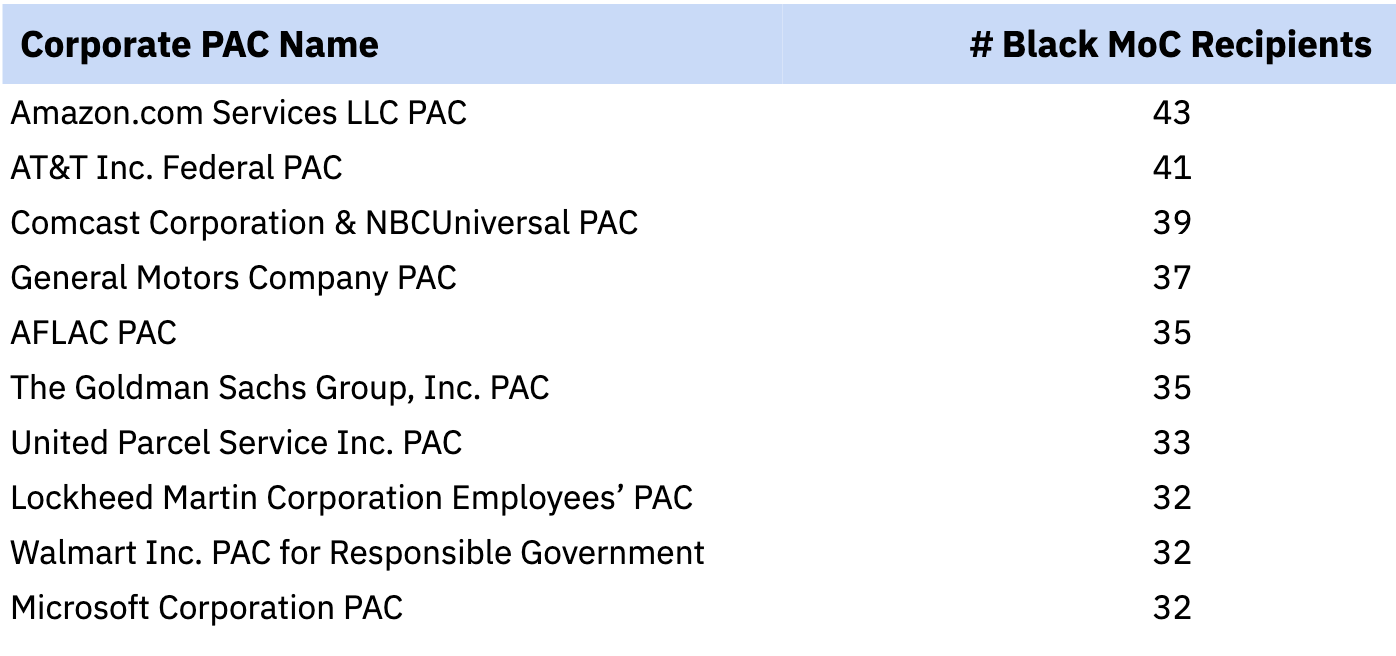 Giving by all PACs
This list includes the top 10 donors among corporate PACs and other types of PACs, including association PACs:
Individual giving to Black Members of Congress
All but three of the top 20 individual donors hail from California or New York. None of these top donors gave anything to Tim Scott, so all of these donations went to Black Democrats. Many of the top donors come from the same families, including Quinn Delaney and Wayne Jordan (Oakland philanthropists), Marilyn and Jeffrey Katzenberg (Jeffrey co-founded DreamWorks), and the Simons/Cappell family (who account for three of the top 10).
The following individuals have given the most to Black Congressional incumbents this election cycle: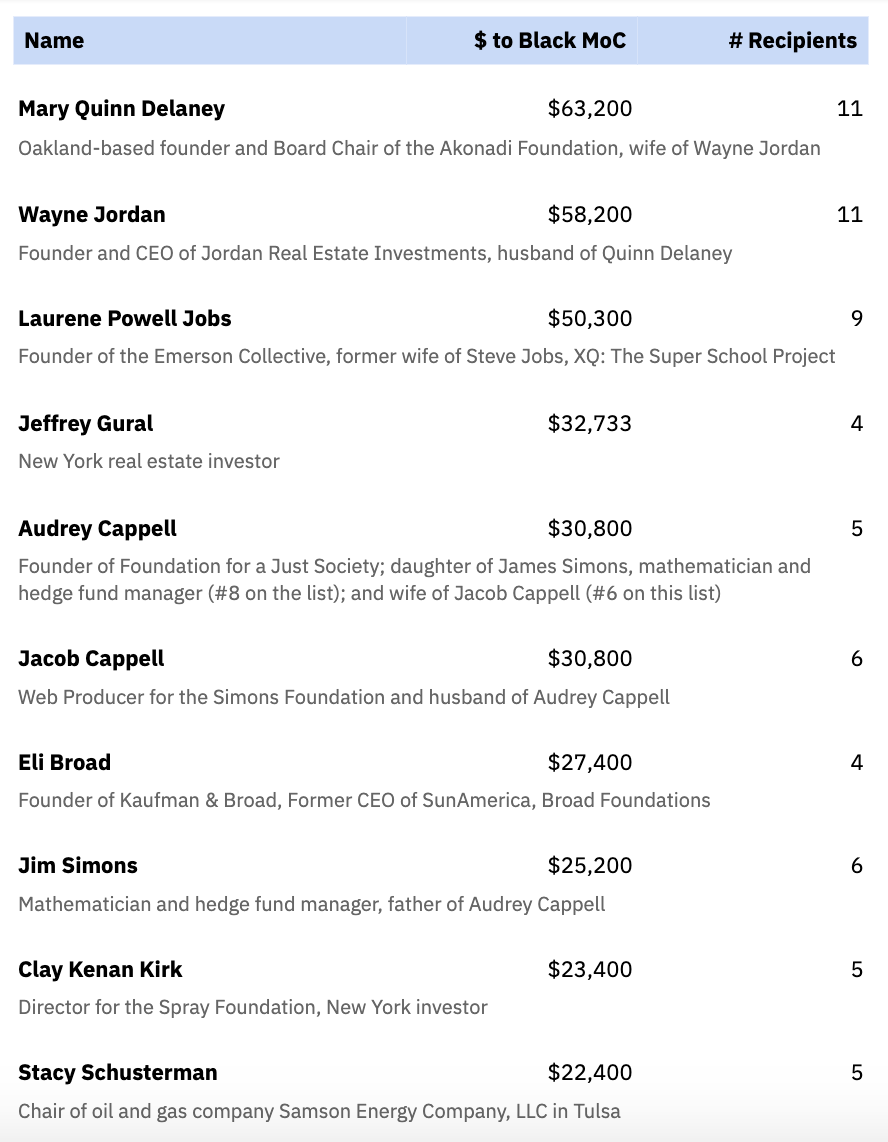 We will update these lists in the coming months to see whose giving to Black Members of Congress increases the most throughout May and June as the national conversation on race gathers increased attention.
---
About the Company
GovPredict is an enterprise software company for government affairs and political campaigns. Serving both sides of the political aisle and organizations advocating for a wide range of issues, GovPredict counts Fortune 50 companies, national campaign committees, major trade associations, and issue advocacy organizations as clients. The Company is headquartered in Washington, DC.
Want a $50 Amazon Gift Card?
Just answer 1 question and leave your email address to be entered into our monthly $50 Amazon gift card giveaway.